CREATIVE ORIGINS
INSPIRED BY MUSIC, DESIGNED TO IMPRESS. Bringing together musicians and designers to create truly unique amplifiers.
EPISODE 3 - ANNIE AND CHRIS
"lOTs OF ARTISTS AND MUSICIANS ARE QUITE AWKWARD PEOPLE. Creativity is an outlet for that."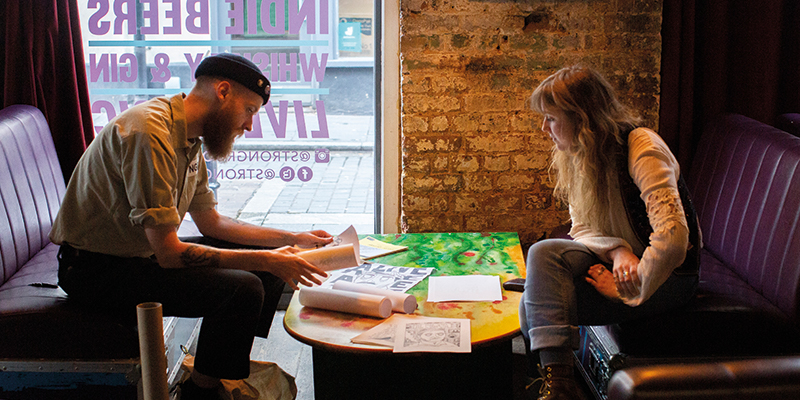 For the final part of this series we looked to challenge the creative process. We paired two artists who are at their creative peaks individually and let them inspire each other. They each pushed their boundaries and challenged their creative processes, resulting in a totally unique Origin amplifier.
Annie is the guitarist and vocalist for the alt-rock trio Big Peyote, where as Chris is an artist who uses lots of mediums to showcase his distinct style. When presented with an Origin 50C, comprising of classic all-valve, rich and harmonic Marshall tone, the two drew influences directly from each other. Capturing their individual characteristics and spirit was a challenge that Chris launched himself into, and despite having almost 60 years experience of providing exclusive equipment under our belts, has resulted in something unlike anything Marshall has ever done before.
And don't worry, it still sounds incredible too.
THE MUSIC BEHIND THE VISUALS
Every artist has their inspirations. This is what influences Annie, and inspired Chris when working on the amplifier.
"CREATIVITY IS A NEVER ENDING BATTLE TO EXPRESS YOURSELF"
As a singer, guitarist and songwriter, creativity is key to everything that Annie does, but in order to understand where the inspiration for that creativity comes from, you need to look into the music that Annie and her band Big Peyote creates.
With her band described as "like the soundtrack to a road movie" and "what I imagine gigs in late-60s California sounded like"; Annie has an uncanny knack of combining folk and americana with classic British songwriting and American road-trip rock. These influences provide a familiarity that Annie builds on with her own unique twist on rhythm and melody. Annie pairs this with contemporary recording techniques to give her a basis to get creative.
Annie first picked up a guitar around the age of 7 and was continuosly surrounded with melodies from an early age. As almost her entire family were guitarists there were plenty of opportunities within her early years to pick up and play, so as much as music is in her blood it was also inevitable that the guitar would be her weapon of choice.
Annie describes her music as "country and americana influenced alt-rock with a heavier, grungey side to it". This sound was visually captured in the final amplifier in Chris's design. By focusing on a picturesque mountain hideaway the amp has a beautiful landscape but the black and white colourway and sci-fi twist incorporate the darker side to Annie's music. The end result is a familiar yet totally unique journey all at the same time.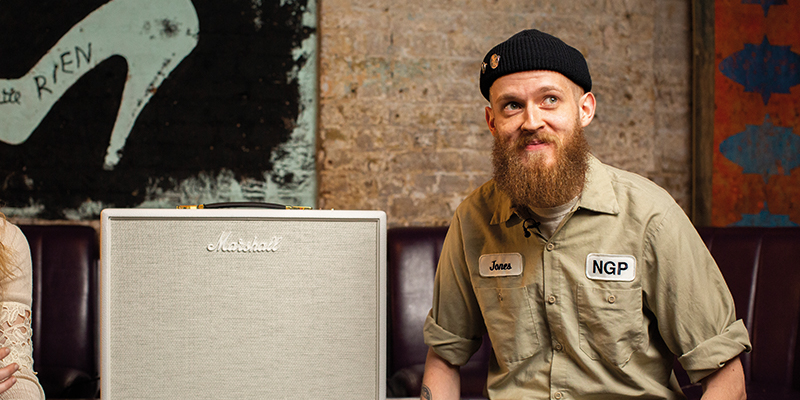 "It's cool to do something with music because music is such a big part of the things i make"
As an artist Chris has always used a wide variety of techniques and mediums to showcase his creativity. When asked how he got started as an artist Chris explains that he's "always drawn, since he was a little kid" and that he's "always wanted to do things that are considered more fun, such as art".
This led to Chris studying filmmaking at university, expanding his skills to incoporate new ways of getting creative alongside his illustrations, and exploring ways of expressing thoughts that he "wouldn't necessarily tell people".
Like Annie, music has a big influence on Chris's art. When it comes to the Origin amp he very early on wanted to incorporate Annie's lyrics into the design and throughout aimed to capture Annie's creativity within his own work. For Annie this meant the final piece provided her with an alternate view on her creativity, helping her to view herself how others may view her music, as opposed to how she can sometimes view herself.
By involving her from the get go, Chris gathered Annie's opinions on his previous illustrations and formed a sense of her personal style. When bringing this into his artwork Chris managed to create a final piece that had elements of both of them whilst still remaining totally unique.
PURE VALVE TONE FOR THE MODERN ERA.
The Marshall Origin is straightforward and easy to use, just as it should be. By delivering warm, familiar, valve-driven sounds in a timeless package it's the perfect tool to create your tone.
Origin features two inbuilt voices, power reduction technology, and a tilt control that allows you to blend between high treble and rounded sounds. The classically styled single channel amps generate rich and harmonic tones, ideal for players to explore new possibilities and is even suited to showcasing your pedals. Available as a head and cab or a combo in a range of sizes from 5w to 100w, it's the perfect platform to craft your sound.
With something for those playing in the bedroom, at rehearsal or on the stage, expressing yourself starts here.