CREATIVE ORIGINS
INSPIRED BY MUSIC, DESIGNED TO IMPRESS. Bringing together musicians and designers to create truly unique amplifiers.
EPISODE 2 - CHRIS AND JAY
"CREATIVITY IS LIFE. IT'S ABOUT BRINGING THINGS TO LIFE AND LIVING LIFE TO THE FULLEST."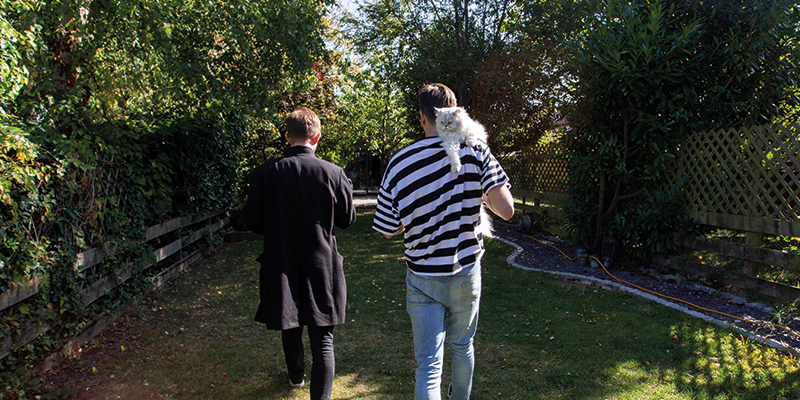 Creativity is a unique process...
There's no set way to be creative. What works for one person could be crippling for another. Which is why when you meet someone who you can collaborate with creatively, you're all set. With this in mind Chris and Jay were the perfect pairing for the second Creative Origins amplifier.
Chris took an Origin 50C, comprising of classic all-valve, rich and harmonic Marshall tone, and matched his soaring soundscapes perfectly with Jay's vivid imagination. Unrestricted by rules or regulations, and inspired by a thirst to create a final piece unlike anything that currently exists, creativity reigned supreme. The end result takes what's expected of a Marshall amplifier and tips it on its head. Meet the 'Not so black box'.
And don't worry, it still sounds incredible too.
The music behind the visuals
Every artist has their inspirations. This is what influenced Chris, and allowed Jay to understand the driving force behind his music.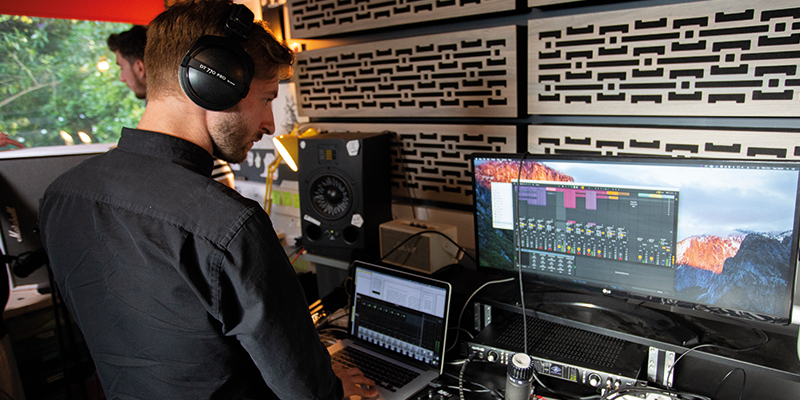 "I'm inspired by big, washed out guitar tone"
When first learning guitar, Chris took inspiration from iconic rock guitarists such as Steve Vai, Yngwie Malmsteen and Greg Howe. In particular their ability to blend different styles and look further afield to the world of jazz and classical music opened his eyes to a brave new world, where guitar music is constantly pushing boundries.
Bringing in elements of music from the past, mixed with modern techniques and equipment helped Chris to realise that creativity can come from anywhere . This wide range of influences can even remove the shackles that often weigh down rock guitarists, and for Chris it opened up his playing to limitless new possibilities.
From there Chris discovered post rock, describing Explosions In The Sky and Sunn O))) as artists that fed his desire to uncover music that doesn't just have a message, but that manage to capture an emotion.
For Creative Origins Chris utilised a range of pedals and effects with the Origin 50C aiming to create "big, washed out tones" and "a wall of sound" . By pairing visceral, ethereal sonic pitches with more traditional playing styles he managed to build a swirling soundscape that provided Jay with an expansive palette from which to draw ideas.
When asked to describe his own musical style Chris feels it's often "raw, improvisational and colourful", which was perfectly captured in the final amp. It might not look like a typical Marshall, but then Chris is far from a typical guitarist.
Alongside writing and performing himself, Chris also tutors at SAE Institute where he can put his music knowledge to good use and inspire future generations.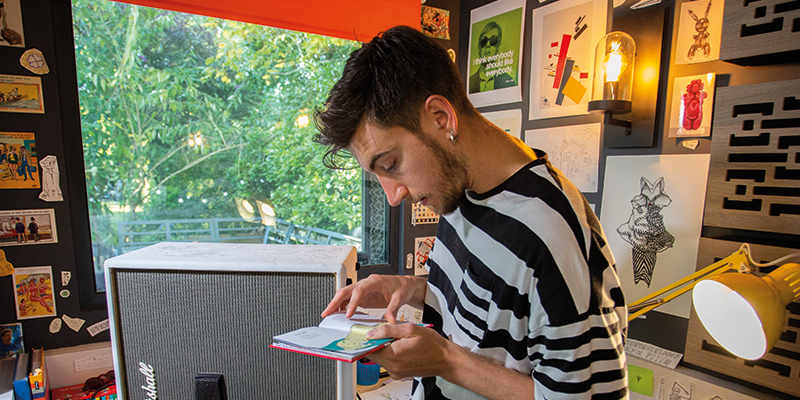 "THE PATH ISN'T THE MEDIUM YOU USE. THE PATH IS CREATIVITY."
Jay's creative tendencies were easy to spot from a young age. His upbringing in rural England meant he often resorted to making his own entertainment, so Jay's vivid imagination led to him creating a myriad of overlapping characters and stories that provided him with endless amusement.
However depicting those characters was not Jay's pathway into design and illustration. His route to expression instead features first picking up a guitar at the age of 10, and growing as a player and songwriter through that, even studying songwriting at university. He feels that "Life goes in cycles, as does creativity, so one moment I'll focus my creativity through music, and then another I'll focus it through art." Understanding the way that the two go hand in hand as part of the bigger picture of expression is a driving factor in Jay and Chris's partnership.
Creativity and perfection are usually contradicting factors. Often in chasing one the other suffers, but whilst Jay always keeps the end user in mind, he is more concerned with capturing emotions and personalities within his art than striving to create the perfect piece. In that respect he follows in the footsteps of two his biggest influences; Quentin Blake and Ted Geisel.
When asked to describe the impact these artists have had on Jay's own work, he points to the strong characters that flow through their designs. "The combination of concepts that have strong human back stories mixed with deep personal truths, but presented in a fun, playful way really capture my attention"
Jay balances his art and design with his songwriting, and still dedicates time to making music. Chris has been known to collaborate with Jay on the odd tune here and there and has even produced some of Jay's music, proving that a creative partnership can go above and beyond what's expected, often with extraordinary results.
PURE VALVE TONE FOR THE MODERN ERA.
The Marshall Origin is straightforward and easy to use, just as it should be. By delivering warm, familiar, valve-driven sounds in a timeless package it's the perfect tool to create your tone.
Origin features two inbuilt voices, power reduction technology, and a tilt control that allows you to blend between high treble and rounded sounds. The classically styled single channel amps generate rich and harmonic tones, ideal for players to explore new possibilities and is even suited to showcasing your pedals. Available as a head and cab or a combo in a range of sizes from 5w to 100w, it's the perfect platform to craft your sound.
With something for those playing in the bedroom, at rehearsal or on the stage, expressing yourself starts here.