CREATIVE ORIGINS
INSPIRED BY MUSIC, DESIGNED TO IMPRESS. Bringing together musicians and designers to create truly unique amplifiers.
EPISODE 1 - NATHAN AND EMILY
"it's being able to express yourself without having to explain why. there's no rules."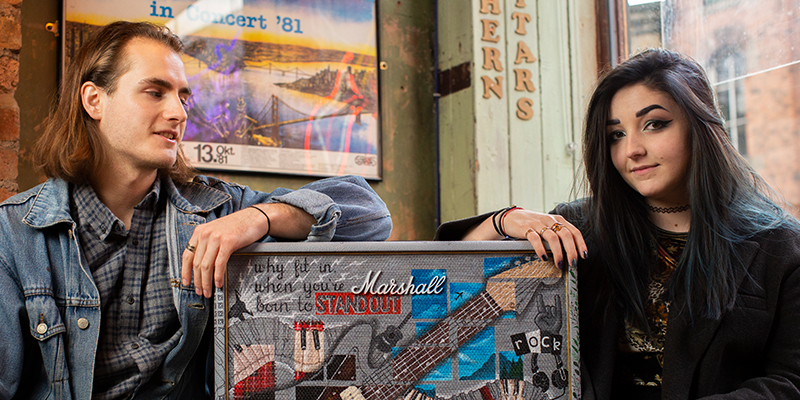 The most difficult part of making music isn't actually making music at all...
It's understanding each others tastes and playing styles. It's about expertly pairing each others techniques with your own skills. It's about combining what's unique about each of you, to create something truly standout that no one else could possibly create. Which is exactly why Nathan and Emily joined forces to create the very first Creative Origins amplifier.
Nathan took an Origin 50C, comprising of classic all-valve, rich and harmonic Marshall tone. Armed with this he crafted his sound and played his music, his way. Emily then set about recreating that visually using the Origin as her canvas and Nathan's playing as her inspiration. The end result is the perfect pairing of styles to strike a balance between the art that they each create.
And don't worry, it still sounds incredible too.
The music behind the visuals
Every artist has their inspirations. This is what influenced Nathan, and allowed Emily to understand what drives him.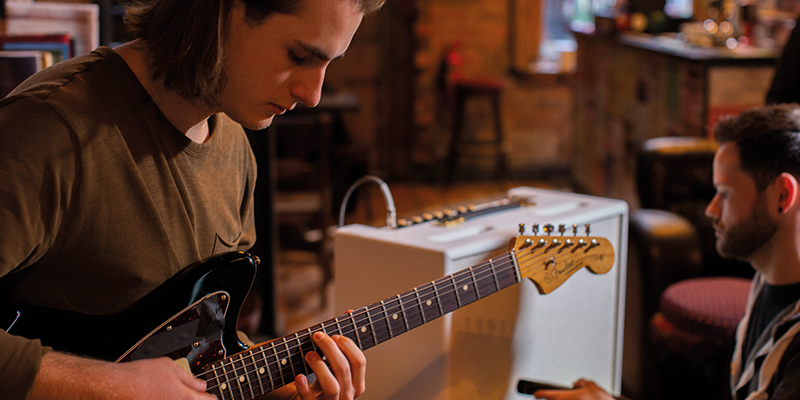 "THIS IS MUSIC. IT CHANGES THE WORLD AND HAS A MEANING BEHIND IT."
Music has always driven Nathan to be creative. Since first getting behind a keyboard at the age of 10 the goal was always to be in a band, so by the age of 14 it was no surprise that he had picked up the guitar too. Around this time Nathan was also first getting to know punk music, which in turn opened his eyes to a whole new world.
"For me, not knowing anything about music or style, it was really mind-blowing to see and listen to punk music that had a strong message behind it, almost a primal nature, especially around that time of growing up it went hand in hand with me being a naughty little boy"
Naturally, forming a band was the next step. Short, sweet and noisey, punk left a lasting impact on Nathan's musical output.
From his punk roots Nathan then started to listen to lots of different artists. Bands such as Joy Division and The Cure crept into his heavy rotation leading to a strong mix of musical identities. Then at 18, Nathan discovered The Cribs; a band that would take those soaring indie melodies he was now regularly listening to and blend that with a fiery, punk-like attitude to create something entirely visceral.
Music was such an integral part of Nathan's life that studying music at Leeds University was the obvious progression. Understanding the music he was exposed to helped him to develop his unique playing style.
Nowadays Nathan describes himself as someone who "views the guitar as more than one instrument, especially when you're playing by yourself as you want to create a big sound". Each stage of his journey to this point has left a mark on his playing that can be heard through his music. The difficulty for Emily was to accurately capture each of those elements within her design.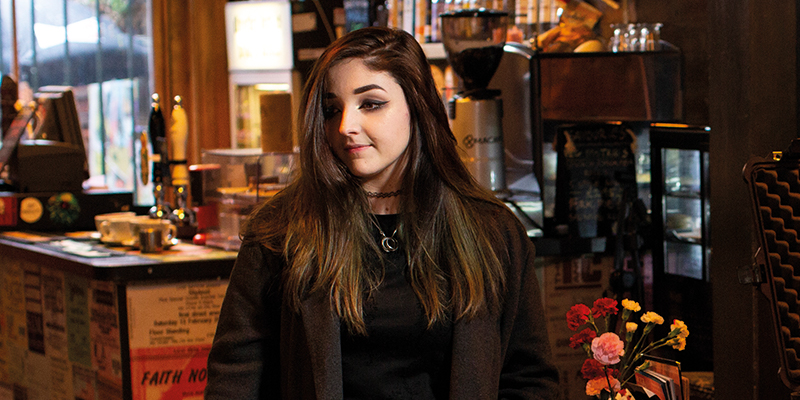 "CREATIVITY DEFINES ME AS A PERSON. IT'S WHO I AM."
Emily is following a well trodden path in design. Her mum is an accomplished graphic designer whilst the rest of the family are in various creative roles. This meant that when making the decision to follow in the family's footsteps Emily knew full well the high standards she was aiming to eclipse.
This also meant that Emily was encouraged to be creative from a young age, and had plenty of time as a youngster to develop her talents. She says "I think it was in my blood to be a creative person. School results showed I clearly wasn't an academic! I always was the most excited by art and making things, painting things, drawing stuff."
Emily points to her mix of styles and mediums as a double edged sword. In some ways she is still developing a consistent and recognisable style, however for the design of the Origin 50C this versatility meant that she was the perfect artist. She was able to use a range of techniques to capitalise on Nathan's mixed influences and weave elements of his past and present into the look of the amp.
Like Nathan, Emily was also into music from a young age and finds it goes hand in hand with her design work. So what's the best music to work to?
"When I'm working I need to listen to something that fast-paced, whether it's rock, indie or metal, whatever!"
PURE VALVE TONE FOR THE MODERN ERA.
The Marshall Origin is straightforward and easy to use, just as it should be. By delivering warm, familiar, valve-driven sounds in a timeless package it's the perfect tool to create your tone.
Origin features two inbuilt voices, power reduction technology, and a tilt control that allows you to blend between high treble and rounded sounds. The classically styled single channel amps generate rich and harmonic tones, ideal for players to explore new possibilities and is even suited to showcasing your pedals. Available as a head and cab or a combo in a range of sizes from 5w to 100w, it's the perfect platform to craft your sound.
With something for those playing in the bedroom, at rehearsal or on the stage, expressing yourself starts here.