History of
1962 BLUESBREAKER
Posted: 28 April 2017
Updated: 20 July 2021
Looking back at a 60's icon.
Read time: 3 mins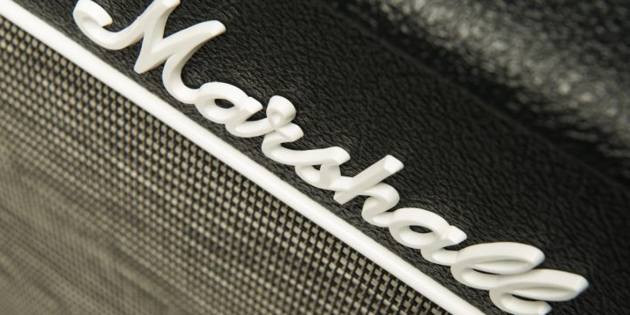 "What more could you need? A true icon of an amplifier" – Mark Trotter, Lonely The Brave
Who wants to live forever? Secretly we all do and while scientists everywhere are chasing the key to immortality we're proud to say that we've already found the answer. Enter the 1962 Bluesbreaker®, an amp for the ages.
Like so many of our products, the history of the 1962 intertwines with the story of a famous guitarist. No, we know what you're thinking and it's not Pete Townshend. This particular amp was tied to Cream guitarist Eric Clapton. While on tour with The Juniors, Clapton was forced to leave his Marshall JTM behind in Greece. When he returned to London, he re-joined "John Mayall and The Bluesbreakers" but there was just one hitch—he was a guitarist without an amplifier. He went straight to Jim Marshall and convinced him to build a compact amplifier, similar in shape and size to the Vox AC30. When asked why Clapton was looking for a combo amp Jim would later say "He wanted one so it would be easy for him to put the whole thing in the boot of his car."
The initial development of Marshall's first combo took place in early 1964. It was based on the JTM45 bass chassis and was advertised as a "Bass/Lead" unit, making it suitable for guitarists and bassists. This also provided an increased tonal range to many amps that had come before it.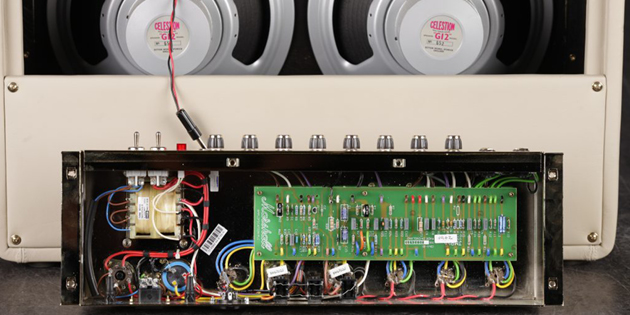 Once it was ready Clapton purchased a 2x12" combo on a repayment plan and went on to use it for some of the most famous Bluesbreaker tracks, where he combined his 1962 Combo with his trusty Gibson Les Paul. For the majority of the recordings the amplifier was played at full volume which provided a level of feedback that Clapton managed expertly. The amp provided a full sound that broke up, but didn't fully distort. This allowed his tone to resonate clearly above the instruments played by the rest of the band.
Because of its use on the John Mayall and the Blues Breakers with Eric Clapton album, often referred to as 'The Beano Album' due to Clapton reading a copy of the Beano comic on its sleeve, the nickname Bluesbreaker was born and spread like wildfire.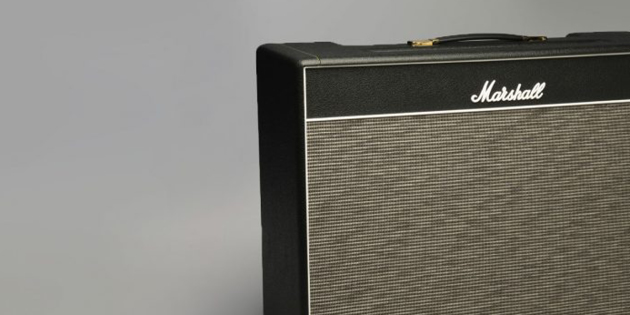 When the amp was announced to the public in February 1965, the 1962 was a visual and auditory sensation destined for greatness. The first set of amps featured JTM45 styling with gold panels, black logos and white speaker fret cloth paired with Alnico 15 watt speakers. In August the same year they got an updated look. The grey and white pinstripe fret cloth, script logo, single strap handle and straight-front speaker baffle board are now instantly recognisable as distinct characteristics of the 1962 design.
It wasn't just the design that evolved. Like a lot of our early amps, Jim Marshall often included suggestions from musicians and would tailor his amps to better suit their needs. This usually led to tonal variations within amps that looked cosmetically the same, meaning it was very rare for any two Marshall amps from this period to sound exactly alike. Also during this time Marshall also released the 1961, which had similar internal workings but featured 4x10" speakers and was available with an inbuilt tremolo.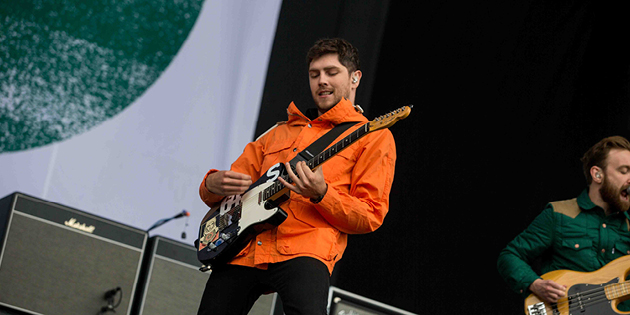 Over the coming years the 1962 Bluesbreaker was updated to keep up with the changing technology and was fitted with EL34 valves and Celestion G12 speakers. The Bluesbreaker took a break from the limelight to make way for the 100 watt full stacks but a true hero can never die. Now offered as part of the Vintage Reissue series, the 1962 has undergone a massive resurgence.
The 1962 Bluesbreaker retains its legendary status and is currently used by Laurie Vincent (Slaves), Dean Richardson (Frank Carter & The Rattlesnakes) and Andrew 'Whitey' White (Kaiser Chiefs), plus many others.
History Of 1962 Bluesbreaker
History Of 1962 Bluesbreaker