History
30TH ANNIVERSARY SERIES
Posted: 2017
Updated: 17 May 2022
The secrets behind one of our boldest looking amps.
Read time - 3 mins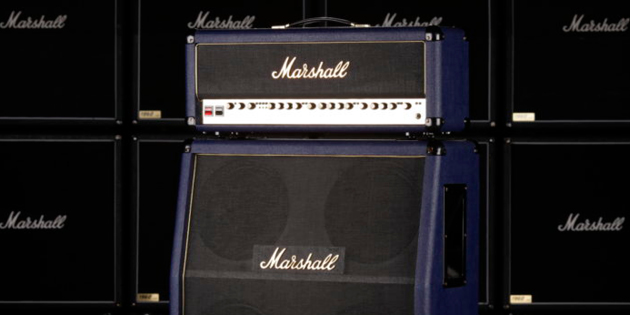 "What's blue, has 17 knobs, 22 switches, 3 channels, variable damping factor, effects loop, 11 tubes and sounds like God?"

– U.S AD Headline, 1992

Most people dread turning 30, right? Well not us. By the time we reached our 30th anniversary, we had long been a household name, celebrated by rock legends from across the globe. We'd set the bar pretty high with the Silver Jubilee to celebrate turning 25, and we knew we had to do something special to mark 30 years of being in the amp business. So that's exactly what we did.
The development of the 30th Anniversary series began during the production of the JCM900s. The initial plan had been to release a third amp in the series, a three-channel variation. Unfortunately, with production demands for other amps being so high, this was postponed and the triple channel variation was launched for the anniversary instead.
The amp was praised for providing almost all Marshall tones in one. Each channel featured different modes modelled after previous Marshall success stories. Whether you were after the sound of a JTM45 or a JCM900, this series would fit the bill.
When the 30th Anniversary series was launched at Winter NAMM in 1992 it was met with huge critical acclaim. Not only did it sound great but it looked good too. With blue or black vinyl finishes, all brass plated panel and Marshall script logo, this was an amp that screamed glamour. The valve and transformer covers were also brass plated.
Despite it being 1992, the amp also featured many forward thinking technological advancements, many of which are still utilised today. These include an effects loop, midi controls, separate send levels, and balanced output control features which provide a real direct to board guitar sound.
The amp itself was a 100 watt, all valve, triple channel beast. Both the head and the combo housed 11 valves: seven ECC83s and four EL34s. All three channels were independent, each with their own controls for EQ and volume and individual gain controls for Crunch and Lead channels. The tone of each channel could be sculped even further, making this amp a showstopper:
Channel 1
The clean channel, had a mid-shift button which added a glassier tone to the classic Marshall sound. There was also a bright switch for added shimmer.


Channel 2
Channel 2 featured 3 modes, each representing an iconic predecessor. Mode A had a tone similar to a Super Lead/JTM45, Mode B gave the amp a classic JCM800 sound and Mode C brought the heavy metal sound from the JCM900 amps.


Channel 3
Channel 3 reached unparalleled levels of gain with contour switches and gain boost.
Alongside this tonal versatility, the amp offered four output power selections. There was the standard Pentode/Triode switch as well as the ability to choose between the use of two valves or four. This provided four different output options.
With its unforgettable look and amazing sound, this amp soon found its way onto the backline of artists such as Joe Satriani, Bill Steer (Carcass) and Alex Lifeson (Rush).